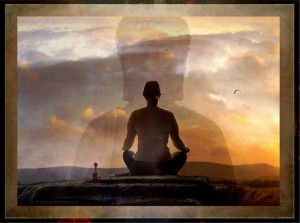 Photo by
h.koppdelaney
Do you feel disappointed every time you meditate but don't experience thoughtlessness? Do you wonder how some meditators seem to routinely enjoy this calming blank space between thoughts? Have you given up your practice because you had too many thoughts while meditating and couldn't seem to shake them off?
Be anxious no more! In this post, I would like to deconstruct the myth of thoughtlessness and clarify the real objective of meditation. However, before we examine this myth, let's understand why do we have thoughts in the first place.
Why do we have thoughts
Thoughts are an outcome of our desires which in turn emanate from two key sources. Firstly, they are rooted in our sense of identity. The identity of an independent self, the 'I', which is experiencing everything from pain and pleasure to sadness and joy. This identity is intertwined with our human experience. As long as we are in a human body form, we stay attached to this identity and continue to have thoughts.
Secondly, the human form contains the intelligence of our past karma. That's the storehouse of the net psycho-spiritual effect of all our cumulative intent, volitions and actions across all lifetimes. It includes the seeds of all our desires, aversions, and attachments. This karmic imprint also dictates our judgmental nature – our tendency to judge everything as good or bad.
We remain a prisoner to our desires and attachments. This coupled with our preference for what appears favourable and distaste for the seemingly unfavourable, continually generates new thoughts and emotions.
Myth of thoughtlessness
There are innumerable meditation techniques out there – from chanting, observing the breath and mindfulness to transcendental meditation, zen and vipassana. Irrespective of the specific practice, a commonly held belief is that the aim of meditation is to experience thoughtlessness. Given the extent of constant mental chatter we experience, this sounds like a really attractive goal.
But it's quite misleading! When we make thoughtlessness the central objective of our meditation…